We've written before about the perverse phenomenon known as "zombie title." Servicers initiate a foreclosure and complete most of the steps, including evicting the borrowers, but then fail to take title to the house. Adding insult to injury, the banks rarely inform the former homeowner of this cynical move. Not only does often find out years later that he's on the hook for property taxes and in some cases, fines from the local government, but the servicer has made such a mess of title that the owner can't get rid of the property, unless he takes a quiet title action, which typically can't commence until five years after the foreclosure was abandoned.
Kate Berry of American Banker provides an update. She flags that this abuse has skyrocketed sin e 2010, when the GAO estimated that abandoned homes ranged between 14,500 and 35,600. They are now pegged at 35% of the one million homes in foreclosure.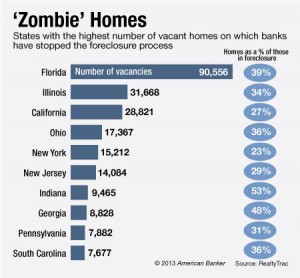 Homeowner advocates are up in arms because both the Fed and OCC have issued guidance requiring servicers to inform borrowers and municipalities if they intend not to complete a foreclosure. They also contend that this is a fair lending practice abuse, since, natch, the borrowers tend to live in low-income communities. And abandoned homes are a blight.
Rest here…
~
4closureFraud.org