Well lookie what we have here…
More fraud, more deception, more lies.
All this AFTER the so called mortgage settlement that was to stop all this…
The case below goes a little something like this:
Foreclosure filed by INDYMAC bank filed in Jan 2009
ONEWEST takes over INDYMAC in March 2009
Summary judgment granted to plaintiff in Sept 2009 based on filing of "original" ENDORSED note with endorsement placed below signature line on last page of the "original" note
"Original" Note w/ Endorsement
~
Property sold June 2011 with certificate of title issued in March 2012
However, DELVA filed bankruptcy in Sept 2011
Jan 2012 relief from stay filed by Steve D. Tran of Law Offices of Daniel Consuegra along with a copy of the "original" endorsed note
However, this second version or the "original" note reflects an endorsement on a page attached to the signature page (allonge) RATHER THAN THE ENDORSEMENT ON THE SIGNATURE PAGE AS REFLECTED ON THE FIRST "ORIGINAL" NOTE FILED IN THE FORECLOSURE PROCEEDING
"Original" Note w/o Endorsement
~
Now where did that original endorsement go?
Clearly a fraud on the court has been committed by the plaintiff by the filing of two different versions of the "original" endorsed note in two different courts.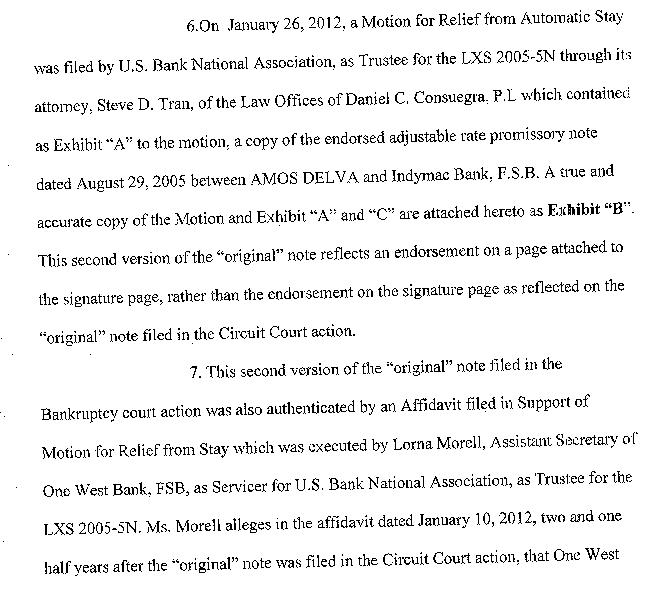 The hearing is today at 4pm in Broward County FL if you would like to attend.
Copies of the motion and "original" notes below…
Oh and by the way, this ain't the first time we looked at this file. Last go around we found the Loan Balance MBS Report Conflicts with Servicer Affidavits Presented to Courts & Homeowners.
~
4closureFraud.org
~
exh a to Mot. for Relief (2)-1
exh B to Mot. for Relief (3)-1